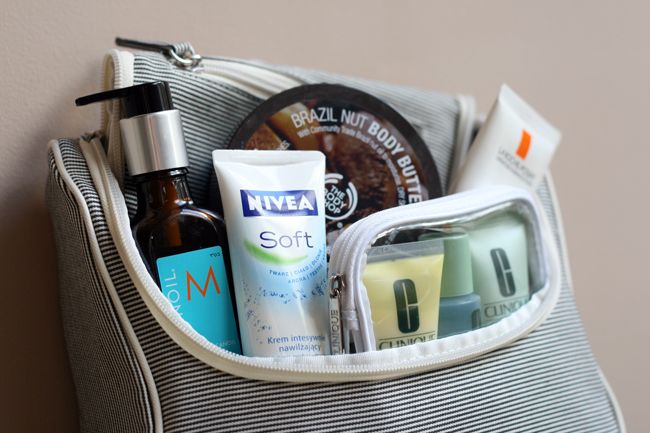 Wiele z Was pytało mnie o moje rutynowe dbanie o włosy i ciało. Starałam się na bieżąco udzielać odpowiedzi, jednak zamiast ponawiać je, postanowiłam zebrać wszystkie informacje na ten temat w jednym poście.
Many of you have been asking me about my hair&body care routine. I tried to be up to date with answering the questions but I came up with an idea that it would be easier to make a post with all the information that you may consider useful.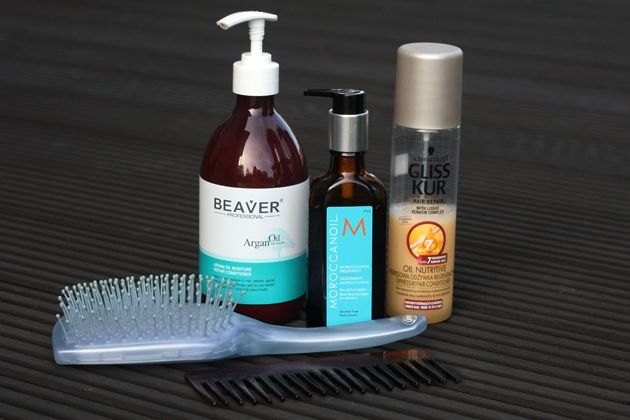 WŁOSY. Na sam początek – pielęgnacja. Nie mam żadnego ulubionego szamponu, zmieniam go jak tylko butelka sie wyczerpie. Za każdym razem staram sie kupować inny, głownie wybieram ten do farbowanych włosów. Podobnie jest z odżywką do spłukiwania, chociaż ostatnio uwielbiam te zawierające olejek arganowy. Teraz używam tej firmy Beaver, którą po umyciu włosów nakładam, rozczesuje grzebieniem o rzadkich ząbkach i zostawiam na kilka minut. Po umyciu i osuszeniu ręcznikiem, rozprowadzam sporą ilość odżywki bez spłukiwania. Bez tej nie ruszam sie z domu, ponieważ moje włosy są bardzo trudne w rozczesywaniu. Przeważnie używam tych od firmy Schwarzkopf. Rozczesuje włosy szczotką i w końcówki włosów wsmarowuje wynalazek wszechczasów – Moroccanoil. Jest to po prostu olejek arganowy, który nieziemsko pachnie, dobrze nawilża włosy pozostawiając je miękkie i zdrowe. Następnie susze głowę suszarką na szczotce.
HAIR. Starting from the care. I don't have my favorite shampoo, I change it as soon as the bottle is empty. Each time I try to buy a different one, I choose mostly the ones for colored hair. The same is with the conditioner,  but lately I love those consisting Argan Oil. Now I'm using one made by Beaver, that I apply on washed hair, combing it all with wide-teethed comb afterwards. Leaving it for couple of minutes. Then comes a spray conditioner that I can't leave my home without because my hair is really hard to brush out. Mostly I use those from Schwarzkopf. After brushing is time for my precious MoroccanOil. It's just the Argan Oil but smells so heavenly, moisturizes hair leaving it healthy and shiny. The last thing I do is drying.
TWARZ. Moja skóra, zarówno na twarzy jak i reszcie ciała, należy do bardzo suchych, więc musze dbać o jej nawilżanie. Od ponad roku używam trzech króków Clinique i jestem bardzo zadowolona z całej serii produktów, które bardzo dobrze odpowiadają moim potrzebom. Po umyciu twarzy mydłem do skóry typu pierwszego, oczyszczam ją tonikiem z tej samej linii. Jedynie nawilżanie pozostawiłam Nivei Soft, której używam odkąd tylko pamiętam.
FACE. My skin, both on face and the rest of the body, is extra dry so I really have to care about the moisturizing. For over a year I use three steps by Clinique and I'm really pleased with this series that do satisfy my needs. After washing the face with liquid facial soap for skin type 1, I clarify it with the lotion from the same line. I owe my soft and well hydrated skin to Nivea Soft creme, I use it ever since I remember.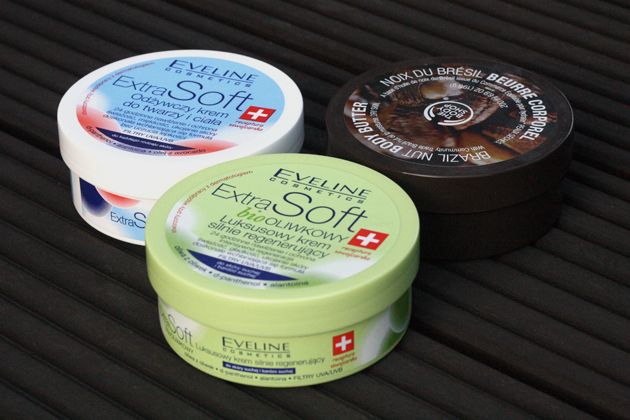 CIAŁO. Jak już wcześniej wspomniałam, moja skóra jest bardzo sucha. Nie wyobrażam sobie by po prysznicu nie wysmarować sie od stóp po czubek nosa czymś dobrze nawilżającym, najlepiej gdy jest to tłusty krem lub masło do ciała. Ostatnio bardzo przypadły mi do gustu kremy od Eveline. Nie jestem zwolennikiem tych zapachowych (truskawkowo-bananowo-morelowo-jeżynowo-oranżadowo…cukierkowym mówie stanowcze NIE!), więc bardzo odpowiają mi te ze zdjęcia. Do tego są w bardzo przyzwoitej cenie. Oczywiście pokłon oddaje masłom z TheBodyShopu, jednak ich cena jest kosmiczna i tylko raz na jakiś czas poprawiam sobie humor tym o najbardziej neutralnym zapachu brazylijskiego orzecha.
BODY. As I've said before, my skin is really dry. I can't imagine myself not applying anything moisturizing after the shower. The more greaser, the better. I love body butters, lately the ones from Eveline are on the top of the list. I'm not a supporter of sophisticated tastes (strawberry-banana-berry-fizzy…bonbon – I say definitive NO to you !) so odorless are so my type. Plus their price is pretty decent.  Of course I love TheBodyShop butters but their price is cosmic, from time to time the one with neutral smell, Brazilian nut, is my mood enhancer.
Mam nadzieję, że dość wyczerpująco podzieliłam się szczegółami mojej rutynowej pielęgnacji ciała. Wciąż pytacie mnie o farbowanie włosów i ich stylizację, ale o tym następnym razem.
I hope that I shared with you all the useful details about my daily body&hair care routine. Although there are still questions about my hair dying and stylization, I'll post about it later.